About the Hemingway List
The Backstory
In 1934 an aspiring writer asked Ernest Hemingway what books to read in order to become a LITERARY GOD, and Hemingway actually wrote him a list. It contains 13 novels, 2 short stories, and 1 book of verse. Here is the actual document, straight from Papa's hand: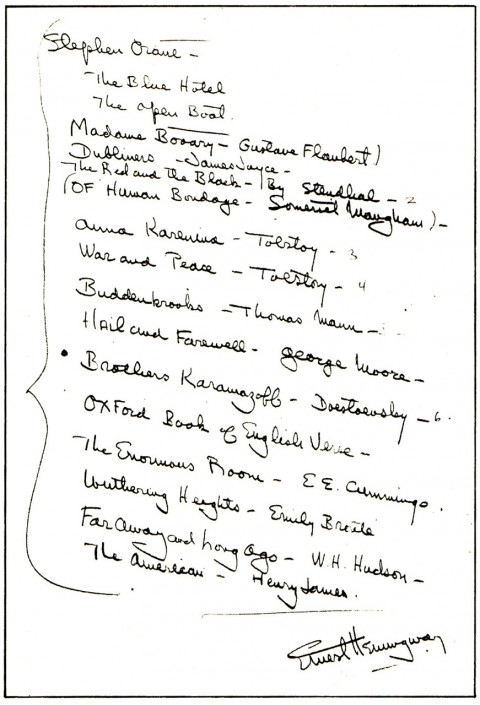 Today... we are reading our way through this list, one chapter per day, and discussing the day's chapter (via our subreddit), and turning the whole thing into a DAILY PODCAST. 
But why?
Well, because this is the path to literary greatness - as prescribed by Hemingway himself.  
Contributor - If you want to be part of the daily chapter discussion, you'll need to keep up with the podcast and join us on our subreddit. It's akin to being part of a massive, world-wide, ultra-ambitious book club. Your comments and insights will then become part of the podcast.
The List
War and Peace by Leo Tolstoy
Anna Karenina by Leo Tolstoy
The Brothers Karamazov by Fyodor Dostoyevsky
Hail and Farewell by George Moore
Buddenbrooks by Thomas Mann
The Oxford Book of English Verse
Of Human Bondage by Somerset Maugham
The Red and the Black by Stendhal
Madame Bovary by Gustave Flaubert
Wuthering Heights by Emily Bronte
The American by Henry James
Far Away and Long Ago by W.H. Hudson
The Enormous Room by E.E. Cummings
Dubliners by James Joyce
The Blue Hotel by Stephen Crane
The Open Boat by Stephen Crane
If any of those strike you fancy, use the 'Completed Readings' link above to find the podcasts and listen through. Enjoy! See you on the other side, when we are all literary giants!